Previous Entry :: Next Entry

Read/Post Comments (6)
2015-03-08 10:50 AM
The Great Fire of London
For "Share Sunday" I offer you a brief glimpse of a new DVD we began watching last night, "The Great Fire" - the story of the 1666 Fire of London (Sept. 2-5) - as recounted in the now famous diaries of Samuel Pepys. (I'll put this video link at top and bottom of my page for you).
Below is
from the ITV Press Center and is a summary of this 4-part series.
The Great Fire

Behind the scenes interviews: The Diaries of Samuel Pepys

The story of humble baker Thomas Farriner and his fabled involvement in The Great Fire of London is coming to ITV this Autumn in new drama, The Great Fire.

Andrew Buchan (Broadchurch, Garrow's Law, Nowhere Boy) plays the role of Thomas in the 4 x 60 minute drama, produced by the makers of Fleming and Mistresses, Ecosse Films, and written by successful novelist Tom Bradby, ITN's Political Editor.

Inspired by the historical events of 1666 and with the decadent backdrop of King Charles II's court, The Great Fire focuses on the circumstances which led to the catastrophic fire, Thomas Farriner's family life at the bakery in Pudding Lane, the playboy King's extravagant lifestyle, and Farriner's complex relationship with his fictional sister in law, Sarah played by Rose Leslie (Utopia, Game of Thrones, Downton Abbey).

Jack Huston (American Hustle, Boardwalk Empire, Parade's End) plays the role of King Charles II and Diarist Samuel Pepys, a close confidante of the King who dared to tell him "he was consumed by the pursuit of pleasure", is portrayed by Daniel Mays (Mrs Biggs, Treasure Island, Public Enemies). Pepys' wife Elizabeth is played by Perdita Weeks (The Invisible Woman, Flight of the Storks).

Also starring is Oliver Jackson-Cohen (Dracula, Mr Selfridge, World Without End) as the King's brother, James Duke of York, Andrew Tiernan (Ripper Street, Foyle's War, Prisoner's Wives) as prisoner Vincent, a forgotten soul languishing in Newgate prison, and Antonia Clarke (Lightfields, A Mother's Son) as Frances Stewart who famously captured the King's heart.

The Great Fire will unfold over four consecutive days as the fire indiscriminately takes hold of the city and the people desperately attempt to overcome the flames. The episodes will capture the most prosperous city of its age as fire rages and engulfs dwellings and businesses like the bakery on Pudding Lane. Terrified and bewildered, the people are thrown into chaos, and with each day they become increasingly desperate to seek safety away from the city.

Other key roles include Lord Denton, an emissary of the King's, played by Charles Dance (Game of Thrones, Secret State, Strike Back) whilst the Duke of Hanford, the most powerful Catholic nobleman in the land, is played by David Schofield (Da Vinci's Demons, Land Girls, The Shadow Line) and Sonya Cassidy (Vera, The Paradise, Endeavour) stars as The Queen.

Douglas Rae (Fleming, Mistresses, My Boy Jack) and Lucy Bedford (Mistresses, All About George, Lie with Me) are the executive producers for Ecosse Films. The producer is Gina Cronk (The White Queen, Tracy Beaker Returns, Wolfblood) and the director is Jon Jones (Lawless, Rogue, Mr Selfridge).

"In 1666 London was the greatest city in the world with a population of 300,000. In just four days The Great Fire destroyed nearly half the city and threatened the monarchy. It's a fascinating premise for a drama and creates the perfect backdrop for Tom Bradby to be at his most creative" said Douglas Rae.

Tom Bradby (Shadow Dancer - film/novel, Blood Money, The God of Chaos - novels) writes the first three episodes whilst episode four is co-written by Tom Bradby, Chris Hurford (Doc Martin, Ashes to Ashes) and Tom Butterworth (Doc Martin, Ashes to Ashes).

Filming took place in in Spring 2014 in Kent, Surrey, Oxfordshire and central London, when the sights and sounds of Europe's greatest metropolis in the 17th Century, Pudding Lane, the Palace of Whitehall, Pepys' dwelling, Fish Street Hill, Newgate Prison, Moorfields, and the River Thames were recreated for the drama. Pyrotechnics and special effects, as opposed to CGI, were used to create the fire sequences as London burns.

~ ~ ~ ~ ~ ~ ~ ~ ~ ~

Victorian Engraving of The Great Fire of London 1666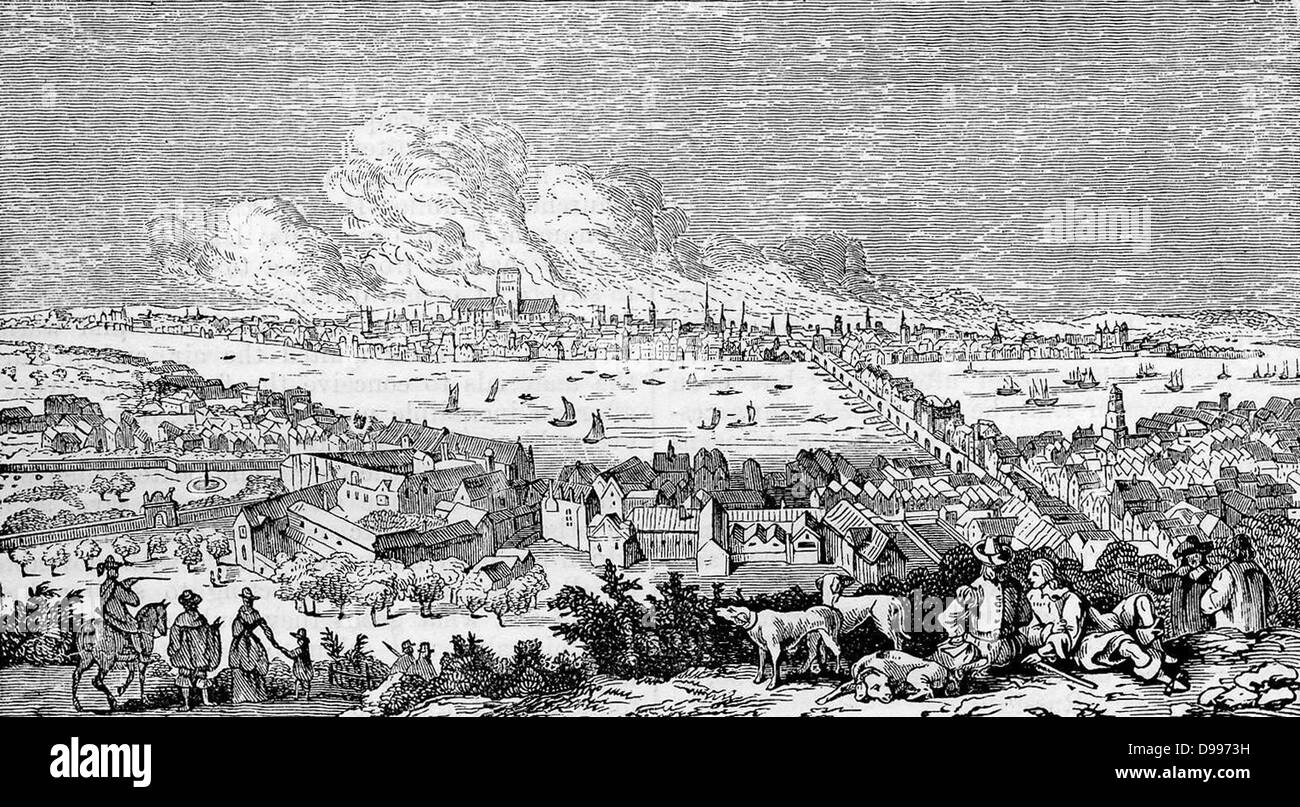 Click image above to enlarge
I had bought this DVD a little while ago and set it aside, and last night it just seemed a good thing to get stuck into. At first it was a bit daunting, with the costumes and rather large cast involved. We watched two of the four episodes (each 1 hour long) last night. We probably will finish the last two episodes tonight, since our usual Sunday shows of late, i.e. "The Great British Baking Competition" and "Downton Abbey," have ended for the season.
I enjoyed it, and Paul, although he started out almost dozing at the beginning, perked up after a few minutes when the story started to develop and you could get more into the characters and their stories.
I am a reader of Pepys and have a couple of copies of his Diaries here. I have not read them all and probably never will, but I do delve into them when the mood strikes me, and I am always instantly transported back in time to those hard days in 1666 when the world was so different... all the time thinking about our ancestors who lived in that time period and gave up everything to make their way across the Atlantic to Massachusetts, even here to Salem, to start a new life. I can certainly see, after watching this film, how they could easily have decided it just wasn't worth it to stay any longer there... even though their lives were hard once arriving on the shores of America... they at least were more in charge of their own destiny whereas their lives in England were out of their control.
Anyway, I just wanted to share this with you. I did find this Radio Drama of the Great Fire of London which is quite good, if you've the time:
More about Pepys if you are of an inquiring nature:
Samuel Pepys - Wiki Page.
Read Pepys' diary day-by-day, to correspond with today's date in history - this is a great site!
A Summary of Pepys' Diary.
A great Pepys site where you can click on his diaries to read as you like and more.
Buy a copy of Samuel Pepys' Diary here at amazon dot com (it's FREE for your Kindle!)
Buy a copy of the DVD (only from amazon dot uk dot com, and you'd need a Region 2 or multi-region DVD player for this.)
Read all of Pepys' Diary at the Gutenberg Press Online.
Quotations of Samuel Pepys at Goodreads dot com, for the quotation-lovers among us!
Cheers,
Bex
Click to do a
crossword puzzle
.

I think I could turn and live awhile with the animals...
They are so placid and self-contained,
I stand and look at them sometimes half the day long.

They do not sweat and whine about their condition,
They do not lie awake in the dark and weep for their sins,
They do not make me sick discussing their duty to God,
Not one is dissatisfied... not one is demented with the mania of owning things,
Not one kneels to another nor to his kind that lived thousands of years ago,
Not one is respectable or industrious over the whole earth.

~ [Walt Whitman, from "Leaves of Grass, No. 32"] ~
<><><><><><><><><><><><><><><><>
2003 - Present Archives at Diaryland
2007 - 2009 Archives at WordPress
2009 Archives at JournalScape
2010 Archives at JournalScape
2011 Archives at JournalScape
2012 Archives at JournalScape
2013 Archives at JournalScape
2014 Archives at JournalScape
Read/Post Comments (6)
Previous Entry :: Next Entry

Back to Top