Yesterday Rob's seatbelt became all folded and was extended all the way out. We both tried to untwist it and get it to retract, but were unable to do so. So, this morning he called the Toyota dealer and they were able to squeeze him in for an appointment. He took the car in and I watched Gabriel. He took the shuttle back home and we waited around here for it to be fixed. It didn't take very long at all and when it was done they sent the shuttle back here to pick him up. No parts needed to be replaced, but they did need to take it apart in order to fix it. It's all better now.

After the car appointment it was around 5:30pm by the time we were ready to do anything so we decided to just stay in. Rob made a run out to Panera to pick up dinner and then we watched Deal or No Deal and Heroes.


----------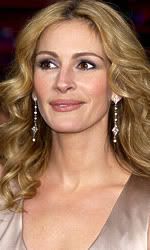 Romance
You're the guy who gets the girl... or the girl who (unlike in real life) ends up with the sweet, caring, gentle man at the end. And when that's over, you move on to the next film and get to experience it all again!

Downside: When that's over, the perfect man/woman goes back to their trailor, drinks, fights with their actual spouse and pretty much leaves you in the dust. Oh, and you never get any "action". That's a different genre...
Take this quiz now - it's easy!