Via
Jake Young
, here's
another one
of those on-line quizzes that's supposed to tell you where you are along the political spectrum and who you should vote for. I wouldn't recommend bothering.
I took it, and here are my results: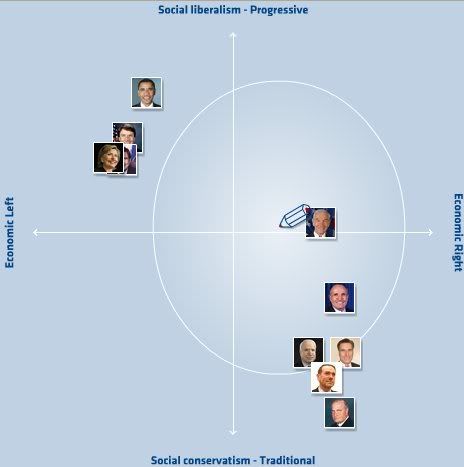 The pencil is supposed to be where I fall on the political spectrum. Gosh, notice who I'm supposed to vote for.
Now notice that all the other candidates are grouped tightly in more extreme positions away from the center. And notice that Ron Paul is closest to the center.
Now note that political views likely fall in a bell curve distribution. That is, most people don't have extreme political views, but tend to fall somewhere in the middle. That would mean that the majority of people taking this test would be closest to Ron Paul.
Hmmmmmmmmmm.
Something makes me wonder if this test was put together by one or more Ron Paul supporters as a form of marketing.
One last point...who the hell would consider Ron Paul "moderate"? The guy is a radical libertarian who has extreme views on just about every topic. Here's a guy who wants to abolish nearly every Federal program, immediately end the war, build a giant fence between us and Mexico, and do away with the IRS. And he's "moderate" according to the graph above.
Uhhhhh, right.