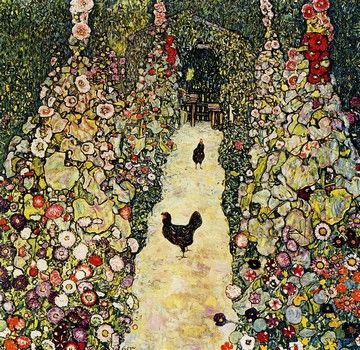 Returning from the post office yesterday morning I noticed the green shoots of day lilies jutting up through the brown leaves driven against the house wall by winter's winds. We don't do any gardening here, surrounded by trees and perpetual shadow, with soil that's half rocks and half tree roots, but the day lilies take care of themselves.
My grandparents, on the other hand, were avid gardeners. I was reminded when I sat down in front of my computer monitor and saw Gustav Klimt's painting Garden Path With Chickens displayed on my computer desktop's ever-rotating art gallery. During my boyhood a path much like the one depicted had stretched from the lawn behind the house to the pear and apple trees towards the back of the lot.
It was an old fashioned garden. Towering hollyhocks lorded it over crowds of daisies, corn flowers, asters, snapdragons and petunias. There were a couple of hidden onion patches where a solitary little petunia might in fact find itself lonely. On one side the flower beds backed against a fence at the property's border, on the other side sweet peas tangled themselves around the bottom of a weathered arbor where grapes sweetened as the flowers faded. Beyond lay rows of corn.
You wouldn't have seen a chicken on the narrow, rutted path, unless it had managed to escape from the wire enclosure alongside the barn where the path began.
Just looking at a painting in a monitor it's impossible to tell what is the original and what merely an effect of the particular reproduction, but to me, the image I've downloaded, with its prominent black lines around the brilliant flowers, captures the peculiar darkness the eye creates when subjected to dazzling summer sunlight. I can almost feel the sun making my hair hot to the touch, hear the bees, feel the occasional leaf reaching out to touch my leg.
Oh! Was that a bee?!! No, thank goodness, just a daisy, still bent over from last night's hard rain.
My grandparents both grew up on farms and after moving away they did their best to turn their suburban double lot into country acres. Tiny sepia photographs from my father's boyhood reveal vegetable gardens, flower beds, rock gardens, arbors, flowering bushes, berry patches and a profusion of pear and apples trees, each grafted with multiple varieties, as I knew from those that survived when I was growing up.
By then the glories had diminished. Now they are vanished entirely, the property -- divided in half --was purchased by thoroughly modern and upwardly mobile couples who reduced the last vestiges of gardens to golf course perfect lawns.
Klimt's garden path is gone too. The 1917 painting was removed to the Schloss Immendorf in Lower Austria for safekeeping during World War II. When the castle was burned by retreating SS troops in 1945, the painting was destroyed.