Seriously, who keeps turning Lutheus into a spider? Own up to it or I'll have to fish-slap you.
This morning when I logged on it was a spider. This afternoon it was a wolf. Earlier tonight it was once again a spider. Not it's a hawk (or is it falcon, I can't tell). If this thing settles into a spider form someone's gonna get fish-slapped. Oh, and when it does change, please let me know who changed it to what. I'm curious.
So, today I was finally able to pick up my allergy pill prescription. The doctor finally got back to the pharmacy and they were in. Whew. My last pill was taken last night and that was cutting it close. After the drug store we made a pass through the downtown area of Waukesha because we saw signs for an art crawl. It looked like the stores participating in it all had pink balloons outside. We don't know what it was because we didn't stop to check it out (we had other things to do and didn't have the stroller with us). From there we made a stop at Ulta for me to get some hair gunk and Rob ran into Comp USA to check out their closing sale. We might need a new laptop depending on what he needs to do for Good Sam. They didn't have any laptops left in stock, but he did see DDO on sale for $8 and picked it up because we're considering either playing that or WoW at some point. That is, if it works. City of Heroes wouldn't even work on the desktop because of Earthlink. So, we'll see how that ends up. We got dinner at that healthy stir fry place and then headed back home.
Last weekend I caught the tail end of Svengoolie and nearly wet myself in joy that it's played out here. For those of you not in the know, Svengoolie is a weird show (he's the host) that plays old, bad, and deranged horror movies. It was broadcast in Chicago when I was a kid. I left for college in California when I was 17 and I haven't seen it since. Didn't even know it was still around (with the same guy no less). So, I checked on the web and noticed it wasn't a fluke, it's still in Chicago and airs in Milwaukee as well. Right the fuck on!!! Saturday nights at 7pm. I introduced Rob to it (he thought it was weird) and the movie tonight was the original Dracula. Nice. After that I bathed the baby and now Rob and I are online and Gabriel is miraculously asleep... for now.
----------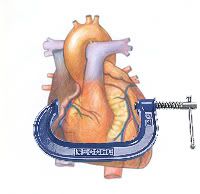 Heart Attack/Stress
When you feel a shooting pain in your left arm, it might be The Big One!
Take this quiz now - it's easy!