We Have Hot Water, But...
We once again have hot water, but it's discolored (looks brownish yellow) and smells funky. *sigh*
The repair guy came over this morning, drained out our old broken water heater (which took forever), removed it, and put in the new one. It seems to be working fine as far as having water that's not scalding hot or freezing cold goes. It's just massively discolored and stinky.
When everything was set up, it was time to shower. Yay! Hot water! After my shower I headed into the closet and ended up with a piece of metal stuck in my foot. The closet is where the water heater is and there were shards of metal littered all over the floor. Also, the plate for the electrical outlets for the heater and softner was off so there was a hole in the wall. *sigh* Rob vacuumed up the metal pieces and put the cover back on while I watched Gabriel. You would think the repair guy maybe could have mentioned the metal shards. You know, just so I wouldn't end up with one in my foot?
Errands were done today. A bank run, a post office run to mail out bills, a grocery store run for some toilet paper, a stop off a Babies R Us to get a car seat for my Mom's car, and the grabbing of some dinner.
Tonight we watched Heroes and Rob bathed the Poopchuck in our odd colored water. Needless to say, it was as quick of a bath as we could do.
----------
Your Zodiac sign means (pics)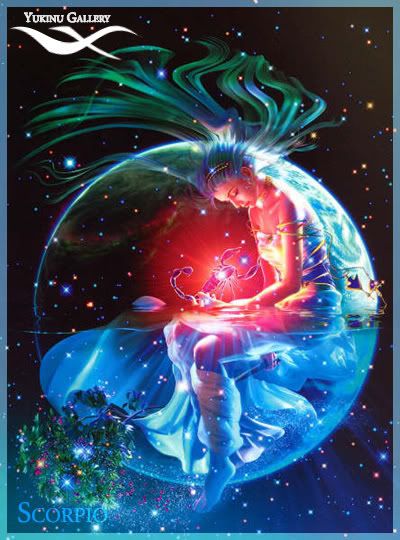 Ruler: Pluto / Element: Water / Mode: Fixed
Pole: Negative / Third: Individual / Half: Objective

Transformation, change, ego-death, rebirth, transcendence; intense emotional involvement with the process of personal growth; movement from individual certainties to the "mysteries of life"; spirit breaking through the limitations of individual ego.

Intense, passionate, brooding, magnetic; stubborn, unyielding, driven by emotions; stands up for self, usually covertly, manipulates power; understands deeper layers of the psyche beyond the ego, unable to communicate this well leading to misunderstandings; intrigued by the "dark side" of life; the underground, people whose job involves going beneath surface appearances; sexuality, especially the transformative power of the orgasm; self-mastery, breaking free of illusory limitations, the Hero.


Take this quiz!


Quizilla | Join | Make A Quiz | More Quizzes | Grab Code