Last night Gabriel brought the tray of his highchair over, dropped it on my foot, and proceeded to jump on it before either Rob or I could get it off. That hurt like hell. For the rest of the night, my foot ached a little but nothing bad. Last night when I got up to use the bathroom, it hurt to walk on the foot. Now my foot hurts like hell. I can't walk on it regularly anymore, I have to walk towards the inside. When I walk normally on it the top outside part hurts like hell. I didn't need this right before my trip to New York, especially with how insane tomorrow is going to be.
The good news for tomorrow is that Rob has a call back interview with Kohl's. The bad news for tomorrow is that this interview falls the day before we leave for New York. Tomorrow is going to be insane. Especially because with my foot I can't drive on any errands. We need to do a lot of errands before our trip tomorrow. There are three we HAVE to do. The bank (I need to deposit some things and get money for the trip), the post office (bills need to be mailed out before we leave or they'll be late), and the drug store (I need prescription refills to have with me for the trip). So, no matter what, the minute he gets home from the interview we have to, at the very least, get those errands done. And now it looks like (if it still hurts) I'm also going to have to get in to see a doctor or head to the ER for a foot x-ray. I need Rob around for this because not only can I not drive with my foot hurting like this, but also I can't very well head to a doctor or ER with Gabriel and no one to watch him. *sigh* Tomorrow is going to be the day from hell with things that HAVE to get done. I am not looking forward to this at all. And no, we can't get any of this done on Tuesday because we'll be leaving the house before anything opens.
On the bright side, except for the foot, today was pretty good and low key. During the day we stayed in to watch Svengoolie. The movie was Son of Frankenstein. When that was over with we made a run to Target to pick up a new baby harness and leash. Our other one broke when we were visiting my Nana yesterday. This new one doubles as an adorable teddy bear backpack for Gabriel. We then grabbed dinner for everyone and headed back home.
Tonight we watched The Amazing Race and gamed a bit. We also did some more potty tranining with Gabriel. His favorite new DVD is Potty Time with Elmo. So, we stripped him down and gave him some time on his potty chair. He was more interested in taking it apart than actually using it. Nothing in the potty, but luckily nothing on us or the floor either.
----------
What is your French name and meaning? (Girls)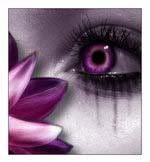 Elodie

Meaning: Uncertain
Take this quiz!


Quizilla | Join | Make A Quiz | More Quizzes | Grab Code