I was going to write about feminism and anti-capitalism and what the next steps should be - in fact I did write a rambling, disjointed, one-sentence paragraph, but shit, I'm out of practise with that kind of writing. Nope. Needs more thought and maybe even an essay plan.
So that's today's lesson. I'm doing good, considering, but I'm not fully functional and must remember to not stretch myself until I snap.
Son is here for the weekend, off out celebrating the birthday of one of his pals, but back later. I hid the ceramic dog before he arrived, keeping open the option of giving it to him for his birthday next week (him and his mates from school that he still sees were all born in mid/late November 1984, so this year they are all being 29).
There have been loads of people round here today, one way or another, which has been kind of OK, but not altogether. At one point Son and I escaped to the kitchen to escape the ornithology.
Made the noughts and crossed board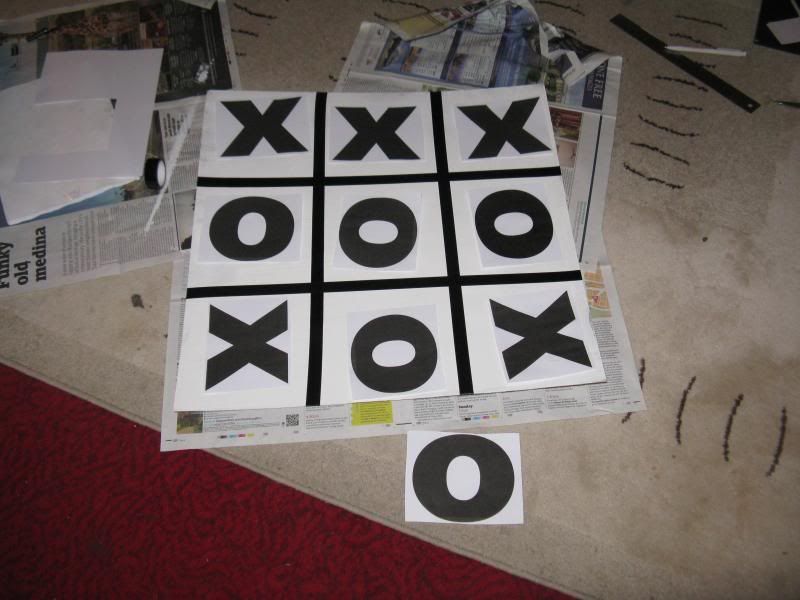 but it's all curled up now. It's going to spend the night under the rug, maybe a few nights, which I hope will sort it out. SDig is bringing her laminator round tomorrow to do the letters. I'm pretty pleased to have made something fit for purpose out of stuff I had kicking around (apart from the laminating). I had a long chat today with Welsh M, who has worked with a wide variety of special needs kids and families over twenty years. She's bringing some materials over tomorrow about different kinds of memory that can be lost, such as autobiographical (ED can't remember her wedding day) and semantic (yet she knows Paris is the capital of France) - dead interesting and useful. [Son is home and the board is now under the rug, which is under the airbed, which is under the Son. So that'll flatten it out.]
I walked my 6k today, really hard, fighting my way through the ranks of efficient, early(-ish) Christmas shoppers who've flocked to the city, lists in hand, purposeful of step. Ghastly. I just wanted to get down the road for some printer ink.
Today I have been grateful for: friends; spending time with the boy, hearing about all his writing projects and friendships and seeing for myself that he is fine; my nice, easy new blog home; Freddie Mercury doing his thing on the telly as if her was still here; sleeping well
Sweet dreams