New Laptop... Yes, Really
I swear, my stomach is trying to kill me. Or at least rip itself out and escape through my ass. Pleasant that.
Today we had a decent amount to get done. We went to the bank to make some deposits and withdrawals. We stopped off at the post office to mail things out and to get new stamps. We went to a nursery (the flower and plant kind) to get some wasp spray. A note on that - our now screened in balcony has about a dozen live wasps and about ten dead ones trapped in it. I'm horribly allergic to wasp stings and I don't know how Gabriel would handle one. I'm also allergic to bug sprays (to the point of it hospitalizing me) and our balcony windows are leaky so sprays can come inside. Bug spraying an apartment I lived in during college is what made my asthma go from barely there to severe and needing to be controlled by daily steroids. So, I don't want to expose myself or Gabriel to chemical bug sprays. We looked over and finally found a place that had a non-poisonous all natural wasp spray that's safe around children and pets. We'll see if it works tomorrow when Rob goes head to head with about a dozen or so wasps. We also got the new laptop.
Earlier today before going out on errands, Rob called Sony. We had checked their website out the night before and noticed that the computer we wanted was on there, but had a different model number than the discontinued one we wanted from Best Buy. Apparently they're the exact same computer with the same specs. The reason there is a different model number is because one is sold only online through Sony and the other is sold through other retailers. Other than that, there's no difference. The person on the phone didn't know why the model at Best Buy had been discontinued or even if Sony was the one that discontinued it (it's possible that Best Buy decided to stop carrying it). If we would have gotten the website model, we would have paid more for shipping and had to have gone to Best Buy anyway to get Microsoft Office. So, we went to Best Buy and got one of the ones they had left. Luckily, one of our local stores had some in stock and were willing to hold a red one for us until today. So, we now have a shiny new red Sony Vaio laptop. It's mostly for Rob's use for work and the like, but it's super neat looking. We also picked up Microsoft Office so that he would have all of the programs he would need to use for work.
After getting the new laptop, we headed back home. Nothing on TV interested us tonight, so we just chilled out and watched some kids shows with Gabriel. Later on, I gave him his bath.
----------
What Color is your Name?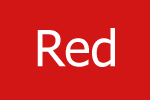 RedThe color of passion, power, strength, and determination.
Take this quiz!


Quizilla | Join | Make A Quiz | More Quizzes | Grab Code